Efficiency View Bank: Interview Erich Pfister
---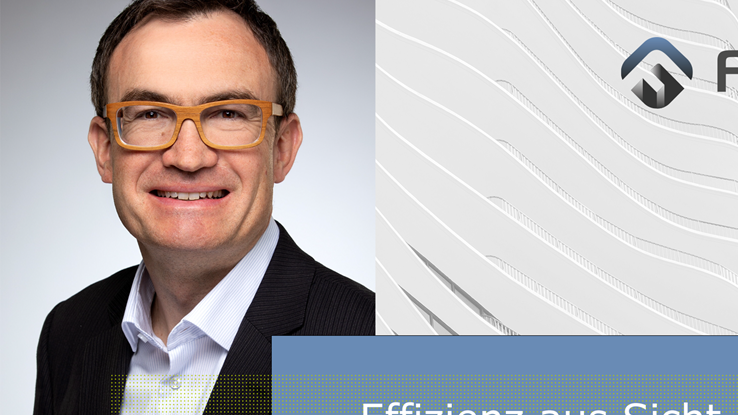 Mr. Pfister, you started as bank manager of Spar- und Leihkasse Wynigen on August 1, 2020. What do you particularly like about your new challenge?
The team and the customers have welcomed me very well. I did my apprenticeship at a very small bank and looked after many small banks at PwC. That has always fascinated me, and I feel comfortable in this environment. I have a strong connection with the country and the people - it's a return to the roots.
And the collaboration with Finstar?
It's off to a good start. Two representatives from Finstar have already been here. That shows me that we are perceived as partners at eye level. I appreciate this open and constructive discussion, in which the focus is not on problems but on solutions.
If the Spar- und Leihkasse Wynigen were a car, it would be a...?
... VW Golf. Reliable, room for a whole family, no frills.
Nevertheless, SLW offers e-banking and mobile banking.
We are well on the way in terms of digitalization. You can't get away with e-banking and mobile banking anymore. It's simply part of the package today - along with many other things.
Digitization as a nice-to-have or a need-to-have?
Even micro-banks are being forced by the market to digitize - that's the future. e-Banking is being increasingly used by our customers, more payments are going through this channel. But the number of payment orders processed in-house is not decreasing - our e-banking needs to be used more in this area.
Lean processes, short paths
How do you define efficiency for SLW?
For me, efficiency means lean processes and short decision-making paths. That's what sets us apart. Customers call, you know them and everyone can help them.
Is that the advantage of a small bank?
Absolutely. The customers see it that way as well.
As an outsider, what would you suggest you do as CEO?
What has made us strong in the past should make us strong in the future. We don't want to expand the market area and attract excessive loans. We are striving for healthy growth primarily in our core business and with a targeted expansion of our offering. Efficient processes help us to grow as long as possible with the same number of employees. Whether outsourcing processes or using infrastructure, cost efficiency is a very important criterion.
What role does digitization play?
We are a savings and loan association and still handle this core business manually to a large extent. If we digitize and hand over tasks to our customers or third parties in a targeted manner, we can focus on other areas that add value for the customers and the bank.
What digitization topics are you focusing on?
In the credit process or customer onboarding, the focus is on procedural security, and that leads to greater efficiency. In addition, I also see potential in payments and savings, whether by means of outsourcing or digitization.
Artificial intelligence for SLW?
As long as there are customers who prefer to work with people rather than machines, we have a raison d'être as a small bank. If that is no longer in demand, it will be difficult for us.
Finding the right way
Can efficiency be expressed in figures at all?
In the end, it's the numbers that count. The more efficient the customer process, the more cost-efficient we work.
With a cost-income ratio of just over 53%, SLW is already doing very well...
For us, this value is already very relevant. When we look at the interest differential business, we have to keep costs under control. At the same time, we have to consider where and how we diversify our earnings position. Our goal is to keep the CIR at this low level.
So you see the potential in earnings?
We have already been economical in the past. It will be difficult to reduce costs further, so we have to increase earnings.
Do you already have ideas about increasing earnings?
First, we will focus on the bank's strategy without reinventing it. We will do certain things differently and invest moderately, including in digitization. We certainly won't push this to the extreme, because that's not what our customers want. If they do, they will go to a fully digitized Internet bank. It's a question of finding the right balance between the two demands.
How can SLW's clientele be characterized?
We are talking about about 5,000 customers. In the interest business, we are not yet exposed to the total price war at the moment. One of the challenges is the generational change. The younger ones are more savvy when it comes to digital media, they are more mobile and no longer as strongly connected to the region. That's where we are challenged on several levels.
"We are not a number"
The costs for ICT are already low at SLW. How do you assess the benefits?
I see the greatest benefit in the partnership with Finstar and "Hypi" Lenzburg, which are independent and have a certain size. We have a say, we are not a number. Finstar is agile and very innovative. If we have an idea, we feel this openness to tackle the issue together.
How do you explain SLW's regular top rankings in terms of CIR?
Our plus points are our proximity to customers and our cost structure. We only have collection operations and operate from one headquarters. Nevertheless, we are trying to further optimize this area as well.
Is customer proximity reflected in the costs?
Proximity is reflected in the loyalty to our bank. Customers are perhaps less cost-sensitive. Despite all the closeness and loyalty, we can still get better at clarifying needs and selling our services in a more targeted way - after all, we know that it's easier to keep a customer than to win one.
Is Finstar helping to optimize processes?
At the moment, the people behind Finstar are helping us to optimize our own processes. We can also discuss whether everything in the core banking system has to be offered as a complete package, or whether different providers with specific workflows can be used.
Despite standard software, banks tend to map their own processes.
Efficiency and standard belong together. In this respect, the bank must also prove its flexibility and let down its feathers. The fact that something has always been done this way is a bad argument.
SLW in a few years in general and in terms of efficiency in particular?
We will be as cost-efficient as we are today. Our goal is to increase our visibility and awareness in the region. We want to show that SLW is a good, solid institution that offers everything customers need.
*(This interview is part of our Finstar Space magazine).
Would you like to learn more about the core banking software and Finstar or are you interested in a partnership? Contact us, we look forward to receiving your email.
Top