Needs-oriented. Customer-oriented. Fast. Secure.
---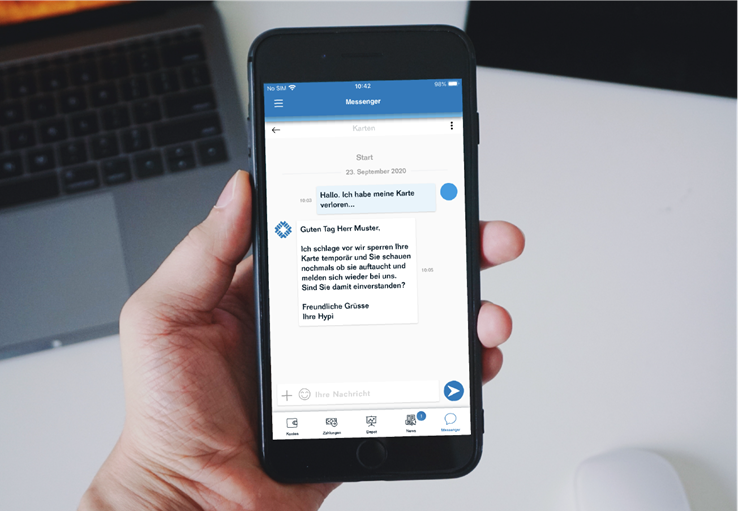 Mr. Catrambone, the most important question first: How often is Messenger used?
At the moment, we receive an average of ten chats a day from customers - more at weekends and outside counter opening hours. These figures are a snapshot shortly after the launch of this new service.
What does Hypi expect from Messenger?
Fewer and fewer people are going into the branch. We want to maintain contact with our customers and offer them an additional, digital channel with the Messenger.
What is Messenger exactly?
It's like WhatsApp with the bank, but secure. Through this channel, customers and the bank can contact each other directly, communicate promptly and exchange documents. Messenger is an addition to the existing channels, and in the future we want to expand the service further. We are thinking of video chat, split screens or a chat bot.
Security and trust
Is there really a need for another channel?
In fact, the market already knows many solutions. But few of them offer enough security and trust - after all, we work with sensitive personal and financial data.
For which topics is the messenger suitable?
For simple questions about accounts, cards or changes of address. Small things that often occur to you outside of banking hours. Then you can post a question and the answer will follow promptly.
What do your customers need to do to use Messenger?
They don't need anything more than the bank's e-banking or mobile banking - everything is set up there to use this channel. No sign-up, no additional app. Customers are free to use the service.
What words would you use to promote the Messenger in a slogan?
Needs-based and customer-focused. Fast and secure. Not all people have the opportunity to go to the branch, or they just need to clarify simple things. Many topics can be dealt with in greater depth via chat if there is an interest or need on the part of the customer. If necessary, we then switch from the electronic to a personal channel, from chat to conversation.
Maximum transparency
What about security?
This question has always been our top priority, and the answer is always the same: Our Messenger is secure. It is hosted in our data center, where the chats are stored. These are available not only to the consultants, but also to the customers for two years - so they can resume a topic at any time and develop it further on a logged basis. For us, this is an expression of maximum transparency.
Who do I communicate with when I use Messenger?
In principle, all employees with customer contact have access to this tool. At Hypi, it's a small team that manages the Messenger, answers questions and forwards them if necessary. These are real employees, and users can see who they are chatting with, even if they have been forwarded to someone else.
What does Messenger mean for employees?
They have to manage an additional channel. The questions don't increase, they just come through a different medium. It's intuitive to use, and training is short. It's more about style than technical issues. Ideally, you have already defined how to communicate with the customer.
And the working hours?
The usual working hours are also the processing times for them. We point out to our customers that they can place messages at any time and receive their answer on the next, regular working day. For the future, we are considering the use of a chat bot for recurring questions. These will then be answered automatically around the clock.
Will the Messenger be used by other Finstar banks in addition to Hypi?
The Messenger is integrated into Finstar. There are no additional license costs, the solution only needs to be installed and configured. At the moment, two other banks are interested in introducing it.
Now the Messenger is there. What can you look forward to next?
As mentioned, we want to expand Messenger. We also want to give our customers even more options in self-service, such as online ordering and home delivery of foreign currencies. Another focus is on the usability of our digital channels. This is becoming increasingly difficult because we are offering more and more.
Top